Director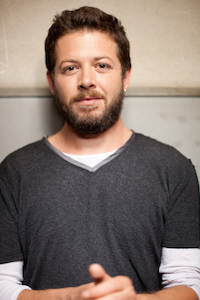 Syllas Tzoumerkas was born in 1978 in Thessaloniki. He grew-up in Thessaloniki, Kilkis and Nissyros. He studied theatre, film-direction and acting in Athens, Utrecht and New York. Ηe directed the 'dogma' like b&w short film The Devouring Eyes which participated in competition at the Cinéfondation of the 2001 Cannes film festival and won the Jury Prize of the 2001 Karlovy Vary film festival. He directed another short film, Rain, and collaborated with various tv-documentary shows on episodes related to contemporary politics, 20th century history and literature. As an actor, he participated in stage and live-cinema performances, feature and short films.
His first feature film, Homeland, had its world premiere at the International Critics' Week of the 2010 Venice Film Festival; it was released in October 2010 and participated in many international festivals. His second feature, A Blast, a Greek-German-Dutch co-production, had its world premiere at the Concorso Internazionale of the Locarno Film Festival 2014 and currently screens in festivals and theaters around the world.
His next film project, The Miracle of the Sargasso Sea, is in-development. It was selected for the Rotterdam-Berlinale Express 2015 (Rotterdam Cinemart, Berlinale Co-production Market) and won the Special Mention of the Jury of the Eurimages Co-production Development Award at the Berlinale.
Filmography
2014

A Blast

2010